The importance of ethical coffee sourcing
You are Now on: Home

The importance of ethical coffee sourcing
Globalisation, improved overseas travel and enhanced ecommerce have all played their part in opening up worldwide business channels, with international borders now seeming increasingly obsolete, in this respect.
One upshot of this has been the propagation of goods and services all around the world, making it easy for us to have what we want, when we want, regardless of whether or not it is manufactured down the road or on the other side of the world.
However, it has also meant the supply chain in many industries has elongated to the point that it becomes increasingly difficult to pinpoint exactly where a certain product came from and – more importantly – to look after that source.
At a time when, for many, it seems like the rich are getting richer and the poor are getting poorer, it has arguably never been more vital to give thought to our purchases' origins.
This is particularly true of produce that is required to go through numerous processing stages, perhaps in different locations – something that is characteristic of the agricultural sector.
Given that coffee is traditionally cultivated and processed in developing countries between the tropics – in regions that may not be particularly wealthy – it is arguably more important than ever that coffee traders and buyers support ethical sourcing.
Implementing standards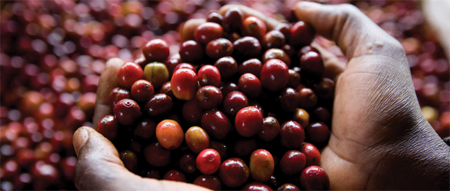 One of the best ways of addressing the issues of a diluted supply chain and supporting those who put in the hard work at the source is to implement standards that can be applied to produce, once it has undergone stringent checks and scrutinisation. Then, whenever a consumer purchases an item with an ethical seal of approval, they know they are part of a responsible and sustainable trading chain, as opposed to one built on exploitation or inequality.
Fairtrade accreditation is one such standard, that aims to address not only social and economical standards, but also environmental ones too.
One of the key focuses of the Fairtrade stamp is ensuring a minimum price for farmers of agricultural produce, to ensure that market fluctuations – something that affects the coffee industry in particular – don't leave growers facing higher production costs than what they are being paid for their efforts. Similarly, the Fairtrade seal of approval also aims to safeguard suitable labour conditions.
According to the Fairtrade Foundation, around 25 million smallholder farmers produce around 80 per cent of the world's coffee, with most of these individuals living in remote, undeveloped areas, with a lack of access to the credit, resources and training they may need to support their own livelihoods.
Paying more attention
The importance of Fairtrade and ethically-sourced coffees, such as those sold by retailers like the Ethical Superstore, is increasingly coming to the fore, as consumers pay more attention to their conscience.
After the horsemeat scandal – which highlighted the importance of traceability – and shocking stories in the media of factories collapsing on top of workers and killing hundreds, shoppers appear to have woken up to the reality of what happens when they don't care about the start of a supply chain.
If you buy coffee that has been stamped with the Fairtrade certificate, you know efforts have been made to link these farmers directly with buyers to cut out potentially corrupt middlemen, to ensure a minimum price for growers, to invest in better practices to improve the quality of their produce and, ultimately, to build better lives for all those who rely on that coffee.